On Sale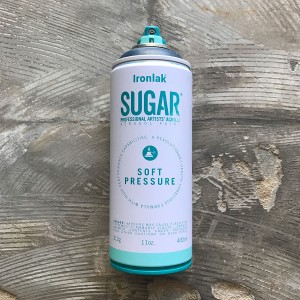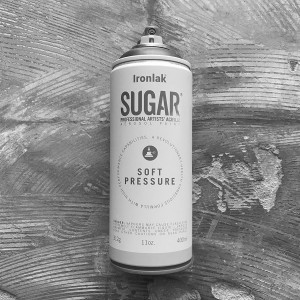 Click here for more images...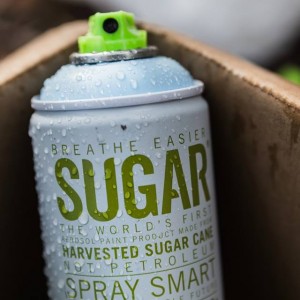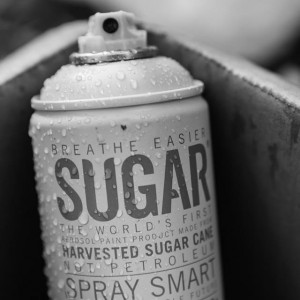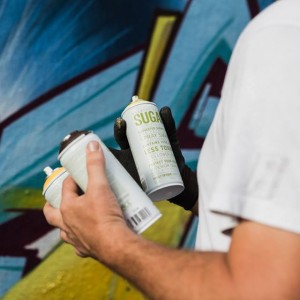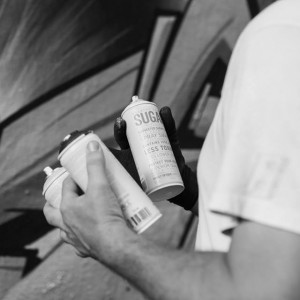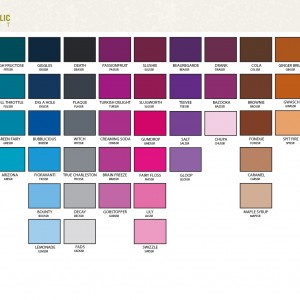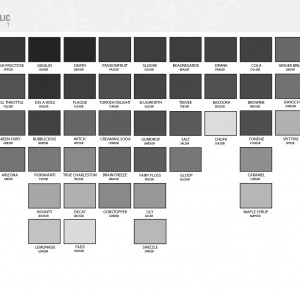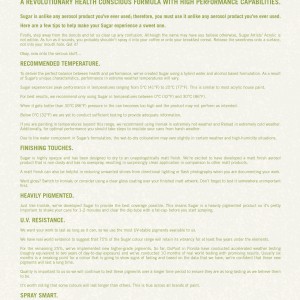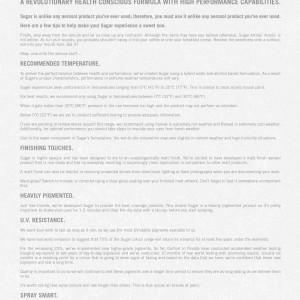 Sugar Artist Acrylic

$5 OLD CAN SALE
As the new design Sugar cans are phased in, save big on old cans designs!


---
Brand
Sugar
Brand Origin
Australia (Made in China)
Can Size
312g / 400ml
Valve System
Female
Stock Nozzle
1 Sharp Shooter
Can Pressure
Low
Paint Finish
Semi Gloss
Manufacturer Link
www.sugarartistsacrylic.com
MSDS
Sugar MSDS (.pdf)
Colour Chart
Sugar Colour Chart (.pdf)
Features
The world's first hybrid water and alcohol based acrylic aerosol paint. Sugar is harvested specifically to deliver the highest quality results for artists, with the lowest possible impact on your health and our environment.
Sugar's innovations in aerosol technology have lead to a unique formulation, which combines water with alcohol made from sugarcane to replace petroleum-based solvents. As a result, Sugar contains fewer Volatile Organic Compounds, meaning less toxins absorbed into the user's body and less environmental impact.
• Matte finish
• Vibrant colour
• Highly opaque
• Soft pressure
• UV resistant pigments
• Suitable for vinyl banners (some spray paints will stay sticky when applied to vinyl, Sugar has excellent adhesion and will not be sticky).
• Suitable to paint directly on styrofoam (many spray paints will attack styrofoam unless appropriately primed).
RECOMMENDED TEMPERATURE
Sugar's performance in extreme weather temperatures will vary.
Sugar experiences peak performance in temperatures ranging from 5°C to 25°C.
For best results, Sugar recommend only using their product in temperatures between 0°C and 30°C.
When it gets hotter than 30°C pressure in the can becomes too high and the product may not perform as intended.
Due to the water component in Sugar's formulation, the wet-to-dry colouration may vary slightly in certain weather and high-humidity situations.
HEAVILY PIGMENTED
Sugar is a heavily pigmented product so it's pretty important to shake your cans for 1-2 minutes and clear the dip-tube with a fat-cap before you start spraying.
U.V. RESISTANCE
Sugar wants your work to last as long as it can, so they use the most UV-stable pigments available to them.
Sugar is a brand new product, but have real world evidence to suggest that 75% of the Sugar colour range will retain its vibrancy for at least five years under the elements.
For the remaining 25%, Sugar have implemented new higher-grade pigments. So far, Dupont in Florida have conducted accelerated weather testing (roughly equivalent to two years of day-to-day exposure) and Sugar has conducted 10 months of real world testing with promising results. Usually six months is a breaking point for a colour that is going to show signs of fading and based on the data that they have, Sugar is confident that these new pigments will last a long time.
It's worth noting that some colours will last longer than others. This is true across all brands of paint.
SPRAY SMART.
Although Sugar is less toxic and more environmentally friendly than other aerosol products, we still highly recommend that you protect yourself. Spray smart, wear a mask and gloves while painting.
Directions For Use - For Best Results:
• Shake the can vigorously for at least two full minutes once the ball begins to rattle, or three minutes for optimal performance
• Remove ring with wings from under the nozzle before trying to spray
• Apply on a clean, dry surface free from dirt and dust
• For best finish apply three light, even coats. However when time does not permit, the colour will cover perfectly in one thick coat
• After use, turn the can upside down and depress the nozzle until only propellant is sprayed from the can thereby clearing the nozzle and valve
• Wear a protective mask and gloves during use
• Store in a cool, dry place away from direct sunlight
---
Related Videos
How to Use: Sugar Artists' Acrylic Aerosol Paint -
www.youtube.com/embed/RDIIoYvcW78