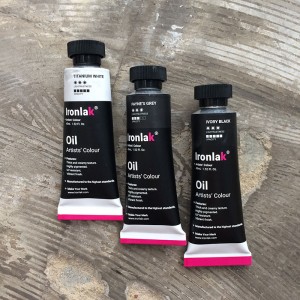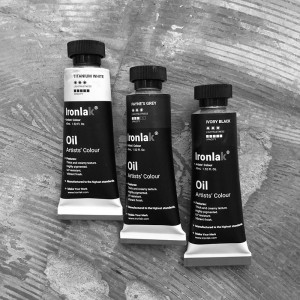 Click here for more images...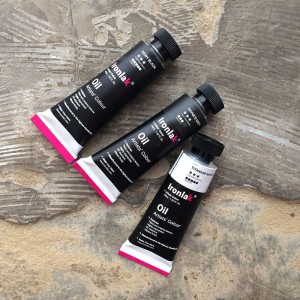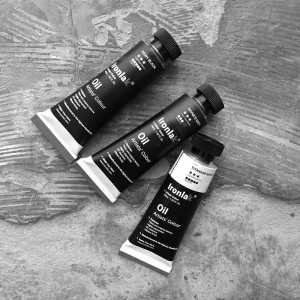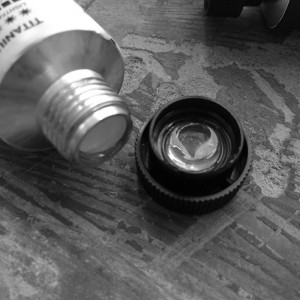 Artists' Oil
Ironlak Artists' Oil Colour is a high quality oil based paint. A heavy pigment load provides fantastic coverage and strong, vibrant colours. Its thick, creamy texture is an absolute pleasure to paint with– under both brush and knife – allowing experimentation with different techniques to create dynamic, layered artwork. Try thinning it down for beautifultransparent washes, or mix colours togetherto create unique colour palettes. Colours maintain their brilliance when dry and artist grade pigments ensure your work will last.

Features
• Thick and creamy texture
• Highly pigmented
• Lightfast and permanent
• Vibrant Finish
• 45ml tube

Directions For Use
• Be careful to only shake or stir lightly. As excessive shaking can produce foam.
• Apply with a brush or painting knife.
• To modify paint consistency use Ironlak Mediums or Linseed Oil.
• Touch dry in three days. Cures in seven days.



---

Complementary Products
•
Ironlak Oilak Brushes
•
Ironlak Canvases
•
Ironlak Artist's Paper
| | | | |
| --- | --- | --- | --- |
| Ivory Black | | AU$7.95 | |
| Lamp Black | | AU$7.95 | |
| Titanium White | | AU$7.95 | |
| Chinese White | | AU$7.95 | |
| Cool Grey Light | | AU$7.95 | |
| Cool Grey | | AU$7.95 | |
| Payne's Grey | | AU$7.95 | |
| Warm Grey | | AU$7.95 | |
| Raw Umber | | AU$7.95 | |
| Burnt Umber | | AU$7.95 | |
| Earth | | AU$7.95 | |
| Swiss | | AU$7.95 | |
| Burnt Sienna | | AU$7.95 | |
| Crimson Red | | AU$7.95 | |
| Red Ochre | | AU$7.95 | |
| Rose Alizarin Red | | AU$7.95 | |
| Permanent Red | | AU$7.95 | |
| Cadmium Red Light Hue | | AU$7.95 | |
| Vermilion | | AU$7.95 | |
| Cadmium Red Orange Hue | | AU$7.95 | |
| Cadmium Yellow Deep Hue | | AU$7.95 | |
| Yellow Ochre | | AU$7.95 | |
| Indian Yellow | | AU$7.95 | |
| Cadmium Yellow Medium Hue | | AU$7.95 | |
| Lemon Yellow | | AU$7.95 | |
| Light Green | | AU$7.95 | |
| Cameleon | | AU$7.95 | |
| Permanent Green Light | | AU$7.95 | |
| Light Jarnte | | AU$7.95 | |
| Permanent Green Medium | | AU$7.95 | |
| Chrome Oxide Green | | AU$7.95 | |
| Sap Green | | AU$7.95 | |
| Sap Green Deep | | AU$7.95 | |
| Swamp | | AU$7.95 | |
| Olive Green Deep | | AU$7.95 | |
| Olive Green | | AU$7.95 | |
| Olive Green Light | | AU$7.95 | |
| Phthalo Green | | AU$7.95 | |
| Viridian | | AU$7.95 | |
| Viridian Light | | AU$7.95 | |
| Stone Blue | | AU$7.95 | |
| Cerulean Blue Hue | | AU$7.95 | |
| Atlantic | | AU$7.95 | |
| Ultramarine Blue | | AU$7.95 | |
| Pacific | | AU$7.95 | |
| Prussian Blue | | AU$7.95 | |
| Phthalo Blue | | AU$7.95 | |
| Violet | | AU$7.95 | |
| Permanent Rose | | AU$7.95 | |
| Flesh Tint | | AU$7.95 | |
| Gold | | AU$7.95 | |
| Silver | | AU$7.95 | |