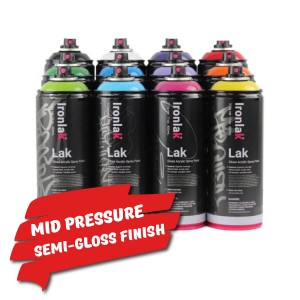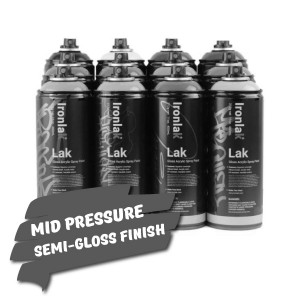 Click here for more images...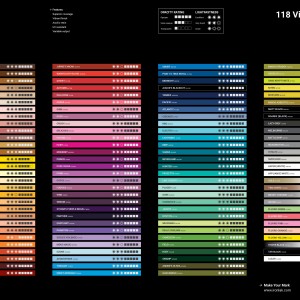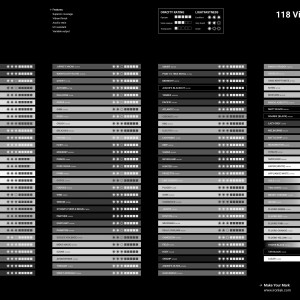 Ironlak - 400ml

Brand Ironlak
Brand Origin Australia (Made in China)

Can Size 310g / 400ml
Valve System Female
Stock Nozzle Widow Maker (fat cap)
Can Pressure Variable
Gloss Level 70% Gloss

Manufacturer Link www.ironlak.com
MSDS Ironlak MSDS (.pdf)
Colour Chart 2019 Colour Chart (.pdf)
Technical Data Sheet Ironlak TDS (.pdf)


---
Features
Ironlak is a thick pigment based paint aimed at giving you value for money while still providing a quality product. Australian owned, Ironlak is the first Aussie paint developed with aerosol artists in mind.
It is a quick dry, high opacity, semi-gloss finish acrylic spray paint that is available in a wide colour range. For interior and exterior use.
Cans come with coloured doughnuts, so even with the lids off you know what colours are in your cans.
Cans are shipped with a stopper under nozzle - remove to use can.
Related Videos
•
IRONLAK | Product Information Video – Part Two
•
IRONLAK | Product Information Video – Part One
---
Complementary Products
Exchange/replace cap with any of these nozzles:
www.thebutchershop.com.au/shop_online/nozzles
Safety Equipment:
www.thebutchershop.com.au/shop_online/safety
---
| Quantity | % Off | Unit Price |
| --- | --- | --- |
| 0 - 5 Items: | 0% | AU$8.95 |
| 6 - 11 Items: | 10% | AU$8.05 |
| 12 - 35 Items: | 12% | AU$7.88 |
| 36 - 59 Items: | 15% | AU$7.61 |
| 60 - 119 Items: | 17% | AU$7.43 |
| 120 + Items: | 20% | AU$7.16 |
• Any mix of colours and brands of aerosol paint will count towards your discount

• Excludes sale items and some speciality cans

• Discounts are applied automatically in the cart