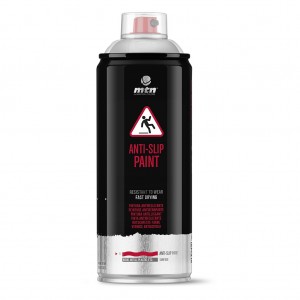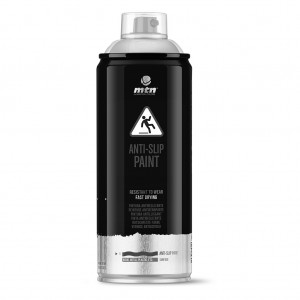 Anti-Slip Paint

Brand MTN Montana Colors
Brand Origin Spain (Made in Spain)

Can Size 400ml
Can Pressure Low
Valve System Male

MSDS MSDS (.pdf)
Technical Data Sheet TDS (.pdf)


---
Product Features
Transparent product that gives porosity to smooth surfaces.
MTN PRO Non-Slip Paint is a transparent spray product that when applied to any type of surface, provides a granulated film that helps prevent falls and slips.
It is formulated with high quality acrylic resins and is especially suitable for floors and stairs, resulting in smooth, porous surfaces.
Recommended for use on any metal, wood, or concrete surface where an anti-slip finish is required:
- Floors
- Stairs
- Ramps and entrances
- Security
---
Characteristics
- Easy and quick to apply
- Suitable for indoor and outdoor use, and for high transit surfaces
- Can be applied on tiles, marble, granite, wood, stainless steel or fibreglass
- Strong adhesion on a multiple surfaces
- Does not contain lead
- Good resistance to wear
| Quantity | % Off | Unit Price |
| --- | --- | --- |
| 0 - 5 Items: | 0% | from AU$11.95 |
| 6 - 11 Items: | 10% | from AU$10.76 |
| 12 - 35 Items: | 12% | from AU$10.52 |
| 36 - 59 Items: | 15% | from AU$10.16 |
| 60 - 119 Items: | 17% | from AU$9.92 |
| 120 + Items: | 20% | from AU$9.56 |
• Any mix of colours and brands of aerosol paint will count towards your discount

• Excludes sale items and some speciality cans

• Discounts are applied automatically in the cart