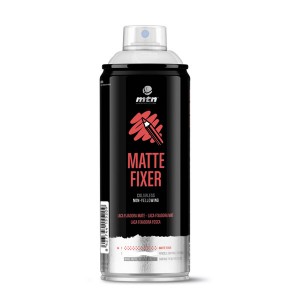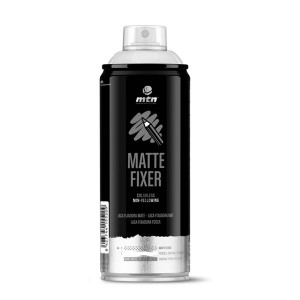 Matte Fixative

Brand MTN Montana Colors
Brand Origin Spain (Made in Spain)

Can Size 400ml
Can PressureLow
Valve System Female

Manufacturers Link www.mtn-world.com

MSDS Coming Soon
Technical Data Sheet Data Sheet (.pdf)


---
Product Features
Transparent matte lacquer perfect for fixing and protecting works made on paper with various, preferably dry artistic techniques (pastel, charcoal, pencil, graphite, watercolor)
Provides surfaces with a matte finish without affecting the colour.
Avoids dust and moisture penetration to the surface, thus prolonging the durability of the work.
We recommend applying thin coats to the surface while it is inclined 30-40 cm, allowing for an overlapping of coats that will provide greater resistance.
Characteristics:
• Very fast drying
• Colourless
• Does't yellow
• Excellent matte finish
• Easy application and repainting
• Non-resistant to weathering
Uses:
• Unify finishes
• Protection of originals
• Crafts
• Fine Arts
---
Complementary Products
Exchange/replace cap with any of these nozzles:
www.thebutchershop.com.au/shop_online/nozzles
Safety Equipment:
www.thebutchershop.com.au/shop_online/safety
---
* The can design of this product has recently changed. Cans supplied may have a different can design, the product is the same.
| Quantity | % Off | Unit Price |
| --- | --- | --- |
| 0 - 5 Items: | 0% | from AU$14.95 |
| 6 - 11 Items: | 10% | from AU$13.46 |
| 12 - 35 Items: | 12% | from AU$13.16 |
| 36 - 71 Items: | 15% | from AU$12.71 |
| 72 - 119 Items: | 17% | from AU$12.41 |
| 120 + Items: | 20% | from AU$11.96 |
• Any mix of colours and brands of aerosol paint will count towards your discount

• Excludes sale items and some speciality cans

• Discounts are applied automatically in the cart