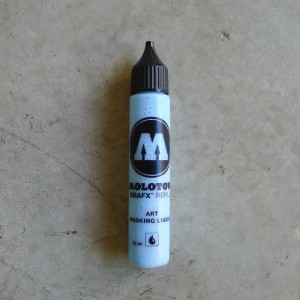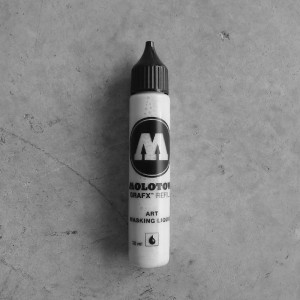 Masking Liquid - Refill
View more products from: Molotow
Product Information
Brand
Molotow
Brand Origin
Molotow (Made in Germany)
Manufacturers Link
www.molotow.com
Product Information Sheet
Download (.pdf)
Refill Size
30ml
Features
To refill the
Grafx Art Masking Liquid Pump Softliner
or any
empty Molotow marker
.
Apply this liquid to the area you do not want to be painted, paint your surface then rub off the masking layer to reveal the original surface.
The art masking-tool is unique for all applications in colorize and watercolor or for sketching in the design- and graphics sector.
Also useful for tacking down stencils during application.
Related Videos
•
MOLOTOW™ Product Sessions #03

| Quantity | % Off | Unit Price |
| --- | --- | --- |
| 0 - 5 Items: | 0% | from AU$13.95 |
| 6 - 11 Items: | 5% | from AU$13.25 |
| 12 - 23 Items: | 10% | from AU$12.55 |
| 24 - 47 Items: | 15% | from AU$11.86 |
| 48 - 95 Items: | 17% | from AU$11.58 |
| 96 + Items: | 20% | from AU$11.16 |
Buy any mix of Molotow Marker products to receive these discounts

Excludes marker items sold in sets and refills

Discounts are automatically applied in the cart
30ml
AU$13.95

Out of stock ETA 2022/01/14

Request