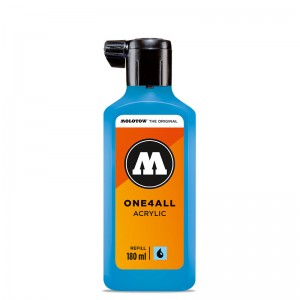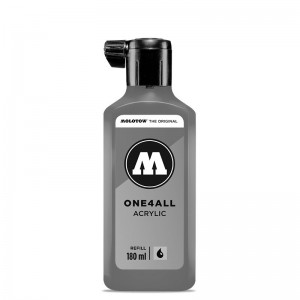 Click here for more images...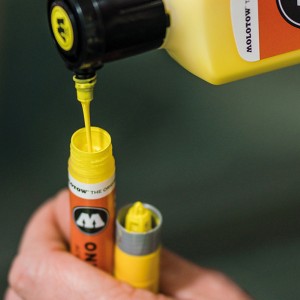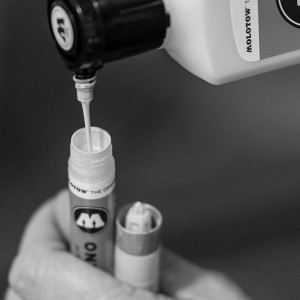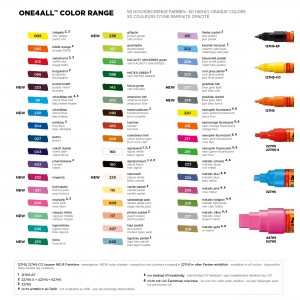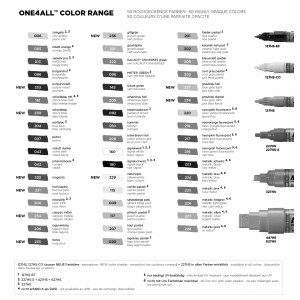 Molotow One4All Refill - 180ml

Product User Guide One4All User Guide (.pdf) 6.1MB


---
MOLOTOW's ONE4ALL range is highly versatile fluid acrylic system. ONE4ALL paint can be applied by marker, brush or airbrush.
Whether twin marker, broad strokes, drips or filigree lines are required, a variety of filled and empty marker are available available for easy application.
The ONE4ALL refill paints are available in 50 shades. The ink works on nearly all surfaces. They can be mixed for individual shades.
• Acrylic based
• Matte finish
• Highly opaque
• Permanent
• Good UV resistance
• Quick-drying
• Non toxic
• Conforms to ASTM D 4236
• Dilute with water or acetone (1–3%)
• Made in Germany
Application Examples:
• plastics
• styrofoam
• paper
• textile
• canvas
• wood
• terracotta
• concrete
• cardboard
• acrylic glass
• metal
• cotton
• natural fibre
• treated wood
• stone
• glass
• wax and many other surfaces!
Important: product should be tested for compatibility before by trying to applicate the color on an inconspicious spot. Please note that smooth and unabsorbent surfaces are naturally better suited for painting than absorbent, flexible and uneven surfaces.
Further information can be found in the ONE4ALL User Guide (download above). The ornamental applications shown there can serve as an inspiration for creativity. Nevertheless, an individual evaluation of the surface should still be done in advance.
It is recommended to clear coat artworks if outdoors to protect from weather.
Diluting with up to 3% acetone improves adhesion of inks to some surfaces.
---
Related Videos
•
Window Painting in the HEMA Amsterdam
•
Caparso On Canvas (Vimeo)
•
Molotow One4All Product Feature (Vimeo)
•
Shek : Berlin (Vimeo)
•
One4All in Airbrush (Vimeo)
•
Antistatik (Vimeo)
•
Towns - Product Review (Vimeo)
•
Fieldey: Custom painting a surfboard for Sea Shepherd
•
Fieldey: Using Spraypaint and Markers for Surfboards
•
Molotow One4All Marker Range is great on any surface
| Quantity | % Off | Unit Price |
| --- | --- | --- |
| 0 - 5 Items: | 0% | from AU$39.95 |
| 6 - 11 Items: | 5% | from AU$37.95 |
| 12 - 23 Items: | 10% | from AU$35.95 |
| 24 - 47 Items: | 15% | from AU$33.96 |
| 48 - 95 Items: | 17% | from AU$33.16 |
| 96 + Items: | 20% | from AU$31.96 |
Buy any mix of Molotow Marker products to receive these discounts

Excludes marker items sold in sets and refills

Discounts are automatically applied in the cart