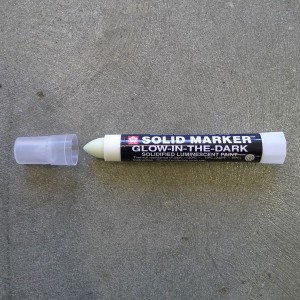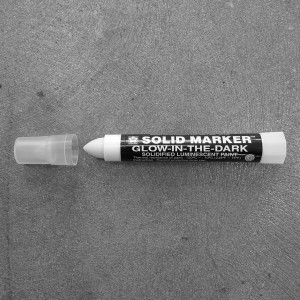 Click here for more images...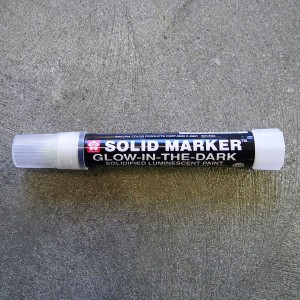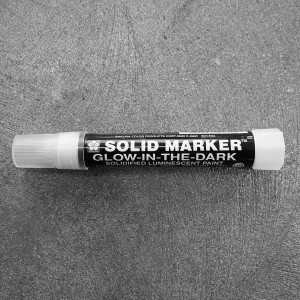 Sakura Solid Marker XSC - Glow in the Dark
View more products from: Sakura

Tip Size: Approximately 12mm


---
Solid Marker Glow-In-The-Dark is the first marker of its kind to incorporate safety-grade photo luminescent material for easy Glow-In-The-Dark applications. It can write on, stay on, and glow on smooth, rough, oily, wet or damp surfaces. Photo luminescent pigments are the basic component of this Glow-In-The-Dark solidified marker. Possible applications include those for: aerospace, commercial fishing boats, fire stations, mining, search and rescue, automotive sales, construction sites, highway construction, shipping, warehouses, and safety and directional signage.
• Paint in solidified form
• Handy with no need of solvent or brush
• For indoor and outdoor use
• 13mm wide mark (can be trimmed with knife for smaller marks)
• Working temperature range (-10°C ~ 200°C)
• Easy twist-up paint stick advance and secure cap keeps this paint marker ready to use
• Meets ASTM E2072-02 Luminance Standard
• Avoid use on acidic surfaces lower than pH of 2.0
• Alcohol-based cleaners will remove ink from non-porous surfaces
• Marks on most surfaces iron, steel, concrete, wood, rubber, paper, leather, glass, vinyl and so on
• Waterproof
• Fade Resistant
• Made in Japan
| Quantity | % Off | Unit Price |
| --- | --- | --- |
| 0 - 5 Items: | 0% | from AU$45.00 |
| 6 - 11 Items: | 5% | from AU$42.75 |
| 12 - 23 Items: | 10% | from AU$40.50 |
| 24 + Items: | 15% | from AU$38.25 |
Buy any mix of Sakura products to receive these discounts

Discounts are automatically applied in the cart