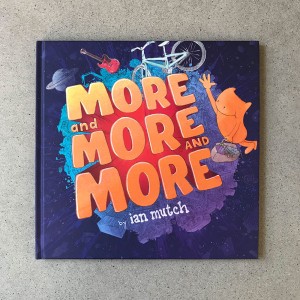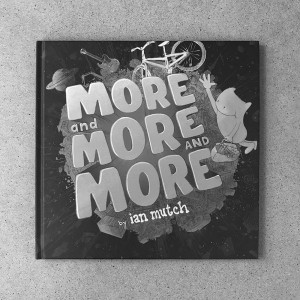 More and More
View more products from: Ian Mutch

Written and Illustrated by Ian Mutch

Henry Harper loves collecting. One day, while out finding treasures, he discovers Kate. She loves to collect, too! Together Henry and Kate amass an amazing amount of stuff before discovering that the most valuable thing they've ever found is
each other.


230 x 235mm, Hardback, 32 pages.


---
PRAISE FOR THE BOOK
'With the current discussion about waste, this book forms a timely addition to picture books which will initiate class attention on this urgent matter. Eager eyes will scan each page and call out all the things they see that have become rubbish, with the wonderful endpapers reiterating what they have seen in the pages of this book.' ReadPlus
'There's a wonderful message in the story about the dangers of consumerism and the accumulation of too much stuff ... It's so much fun to read aloud, and the illustrations are divine – funky and different and very cool.' Kids' Book Review
'This is also a fable about consumerism and its throw-away mentality; our priorities should be holding on to each other. Children will enjoy the cartoon-style illustrations, with the contrast between the simple line of the space characters and the detail of their collections. In fact, they will recognise a lot of items that they have 'collected' too. This is a book to encourage under 8s to keep their collections tidy – one would hope.' 4MBS Reviews
'A timely tale in this modern era of rampant consumerism ... A quirky, clever exploration of what happens when more becomes too much and the question of just how much is enough, this picture book simply begs to be read aloud and will become a firm favourite at bedtime and library story time sessions.' Writing WA