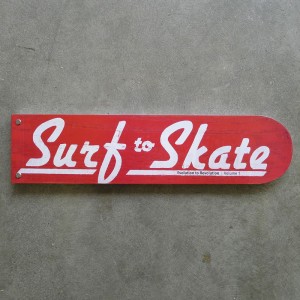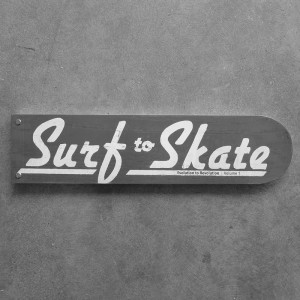 Surf to Skate
It's a rare treat when an art installation can walk you through a comprehensive history that most people know little about. That type of visual feast becomes even more enticing when it translates into an independently designed, written and published coffee table book that can be enjoyed by art and boardsports enthusiasts alike.

Such is the case with the Surf to Skate - Evolution to Revolution, an over-sized book shaped like the first mass-produced skateboard - the "Roller Derby".

The exhibit, designed by avid skateboard collectors Jason Cohn and Stanton Hartsfield, is an impressive extension of the book, showcasing 50's and 60's era skateboards from their personal collections. Their company, Scavenger Brand, swooped in on As Issued at The Lab Anti-mall in Costa Mesa November 16. Jason and Stanton's project took 6 months to pull together from concept to completion.

It pays homage to the history of the skateboard through a vast collection of rare and vintage boards collected by both men throughout their lives. The exhibit consists of 150-500 skateboards in an impressive array of sizes, materials and colours.

The book compresses these rare boards into a timeline from their inception to the point when skateboarding caught fire around the world.


Paperback, 150 pages.
Volume 1 : Evolution to Revolution
AU$58.50

Out of stock.

Request.