Contact Details
If you have any queries about your order, or need help placing your order please contact us on:

Email - service@thebutchershop.com.au

Phone - 08 9328 4520

Customer Service Hours (WST):
Monday - Saturday 10:00am to 5:30pm
Sunday 11:00am - 4:00pm

ABN 26 395 082 793
ACN 604648562

Stock Availability
Stock shown on the website may not accurately reflect the stock in our retail stores. Please contact the stores directly to confirm in store quantities. All online store stock is available for immediate dispatch, we don't take orders for stock we don't have.
Processing Times
We ship all online orders within 2 working days of receiving payment, mostly within a few hours of receiving them. If we are unable to process your order in this time we will contact you via email to make alternative arrangements. You will receive an instant email confirmation of your order and a emailed shipping confirmation once the order has been dispatched (please check your junk file if you do not receive these, and be sure to check the email address you used for your Paypal payment).
Currency and Tax
All prices shown are in Australian Dollars. GST is included in the price if delivered within Australia.
Verifying Your Age
If you purchase restricted products you must verify your age before your order can be shipped. To do this you must provide us with a copy of your Passport, Australian Drivers License of Australian Proof of Age Card.

Please email a scan or photo of your ID to info@thebutchershop.com.au

You only need to verify your age once, subsequent orders under the same name and email address will not require verification.

Payment Methods
During the cart process you can choose your payment option:

Paypal/Credit Card
Australian and International customers can pay instantly via Credit Card online via Paypal, or with your Paypal account balance. You do not need to create a Paypal account to pay with your Credit Card. We do not accept Paypal eCheque payments.

Paypal Pay in 4 (Afterpay Alternative)

Direct Deposit
Australian customers can submit their order and then pay via bank direct deposit. Our bank details will be included in your Order Confirmation email so you can pay via your internet banking or at a bank branch. We must receive your payment within 3 working days or your order will be cancelled. Orders will not be shipped until your payment has cleared.

Money Order
Australian customers can pay via Money Order or Cheque. Your payment must be received within 7 days or your order will be cancelled. Cheques must clear before your order can be shipped. Information of where to send your Money Order or Cheque will be included in your Order Confirmation email.

Purchase Order
Australian Government agencies and departments, local councils and schools can provide Purchase Orders. Orders will be dispatched upon receipt of Purchase Order. During the cart process follow the instructions to enter your Purchase Order number in the Message field and email a copy of your Purchase Order to info@thebutchershop.com.au

Store Gift Voucher
If you have a store Gift Voucher you can select this payment method during checkout and provide your voucher number as promoted.
Cancellation of Orders
If you place and order and then cancel it before dispatch a 15% restocking fee will be withheld from your refund. Please note orders are dispatched as soon as possible after an order is placed and it may not be possible to cancel it. Please email info@thebutchershop.com.au if you wish to cancel an order.

If you do not provide identification for an order within 14 days we will cancel your order and refund you minus a 15% restocking fee.
Incorrect Addresses
If you provide an incorrect address, and your order is returned to us, or we are required to pay a redirection fee, you will be responsible for covering the extra costs.
Returns and Exchanges
Policy for For Online Sales
Sale items, Books, Magazines, Cd's, DVD's and art materials cannot be returned. In addition to your statutory rights other items can be returned for a refund or exchange - we must receive the returned item within 4 weeks of the order being placed. Items must be in their original condition and packaging.

Shipping costs will not be refunded, and you will be required to pay postage costs to return the items to us. If you received free shipping, the actual shipping costs we incurred will be withheld from your refund. Exchanged items will be replaced with free shipping on the first exchange, the customer must bare any shipping costs for any further exchanges.

You are welcome to drop returns to our stores. You can exchange the items when you return them, but if you would like a refund this will be done after you drop the item back from our office via the payment method you used to pay for your order. Refunds can not be given instore. Refunds will be made via the same payment method that you used to place your order.

Returned items must be accompanied by this Online Purchase Returns Form (.pdf)


Policy for For Instore Sales
Sale items, Art Materials, Books, Magazines, CD's and DVD's can not be returned or exchanged. In addition to your statutory rights other items can be returned for a exchange, refund or store credit within 14 days of purchase. Items must be in their original condition and packaging, and your original purchase receipt/tax invoice must be presented. Purchases made by Afterpay can not be returned unless you are entitled to a refund by law.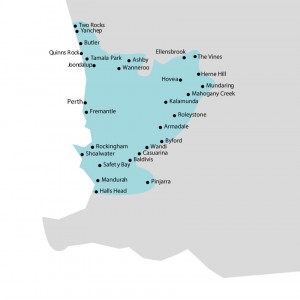 Shipping Info

METRO PERTH SHIPPING (Including Aerosol and Bulk Products)

• All orders $50 and under are charged a $8 flat rate shipping fee

• All orders over $50 are shipped free

• Orders received before noon will be dispatched on the same day (on weekends and public holidays they will be dispatched the next working day)

• Orders are delivered the next working day after pickup



AUSTRALIA WIDE STANDARD (No Aerosols)

• All orders $100 and under are charged a $10 flat rate shipping fee

• All orders over $100 are shipped free

• Orders are generally dispatched via Australia Post Parcel Post, but some bulky orders may travel via road courier

• Order received before 2pm will dispatch the same day (on weekends and public holidays they will be dispatched the next working day)



AUSTRALIA WIDE - EXPRESS UPGRADE (No Aerosols, No Bulky Items)

• All orders $100 and under are charged a $15 flat rate shipping fee

• All orders over $100 are shipped for $5

• Orders are generally dispatched via Australia Post Express Post

• Order received before 2pm will dispatch the same day (on weekends and public holidays they will be dispatched the next working day)



AEROSOL FLAMMABLE SHIPPING

• Any orders containing Aerosols outside of Metro Perth will be charged depending on weight and location

• Orders containing Aerosols can only travel via road courier

• You can use the 'Calculate' button in the cart and enter your postcode to check shipping prices before entering any personal or payment details